Yoga in English class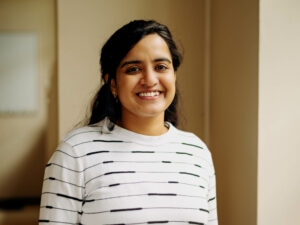 Yoga improves flexibility. …
Yoga helps relieve stress. …
Yoga improves mental health. …
Yoga can reduce inflammation. …
Yoga will most likely increase your strength. …
Yoga can reduce anxiety. …
Yoga can boost immunity
Hello!
I am Dr. Upasana Sharma and invite you to my yoga class in English to enjoy and improve the quality of your life.
Time: on Thursdays, 6.45-7.45 am
class starts 4th of May, 2023
MEDITA Dresden
Würzburger Straße 14 01187 Dresden
Dr. Upasana Sharma, born 1987
I'm Yoga teacher and Ayurveda doctor.
In my yoga class, we will be on A Hath-Yoga Journey together.
Yoga is just not simply Bending your body in a certain posture it's Bonding.
Yoga is not a Workout it's a Work-in.
My yoga class allows you to practice yoga and meditation with additional knowledge
of Human Anatomy and Physiology as I come from an Ayurveda medicine
background.
For me, the aim of yoga is not to copy a Yoga-aasan (Yoga posture) done by a Yoga
teacher or a pose available in a Yoga book or a picture on the internet etc. It's a whole
journey of an individual. When you practice yoga, your body travels through different
stages of flexibility, making you aware of your tiniest movement with full consciousness
and control of your breath. I also teach Yoga postures that benefit in recovering from
certain medical conditions, and also contraindications of Yoga poses. Yoga is good so
you should practice yoga this is not always as simple as it looks because, your body
type, your flexibility level, the kind of job you do, your sleeping posture, and the food
you take these things decide which yoga posture is beneficial for you and which you
should avoid.
My Hatha yoga class will help you create physical and emotional balance by using
Yoga- postures, or Yoga-asanas, combined with breathing techniques, or pranayama.
Each class begins with prayer, Om chanting, Kapalbhati (deep cleansing yoga
technique) Sukshm vyayam (for enhancing microcirculation), and after that classical
hath yoga postures with a little moderation according to the flexibility level of
participants. During these yoga postures, we will try to pause in every posture for some
3-5 breaths and feel the energy and changes on the organ level, involvement of
chakras, and muscle involvement, after aasana practice, there will be pranayama
(breathing exercise), and deep relaxation poses (savasana) along with meditation.
I come from an Ayurveda medicine background, Ayurveda is said to be the science of
life and the purpose of Ayurveda is to maintain health first. I have studied Ayurveda
science for 9 years during my graduation and post-graduation.